The most complete Strategy Execution Software
DecideAct Software helps you
decide quickly

,

act efficiently

,

track consistently

, and

adapt seamlessly

to an ever-changing reality.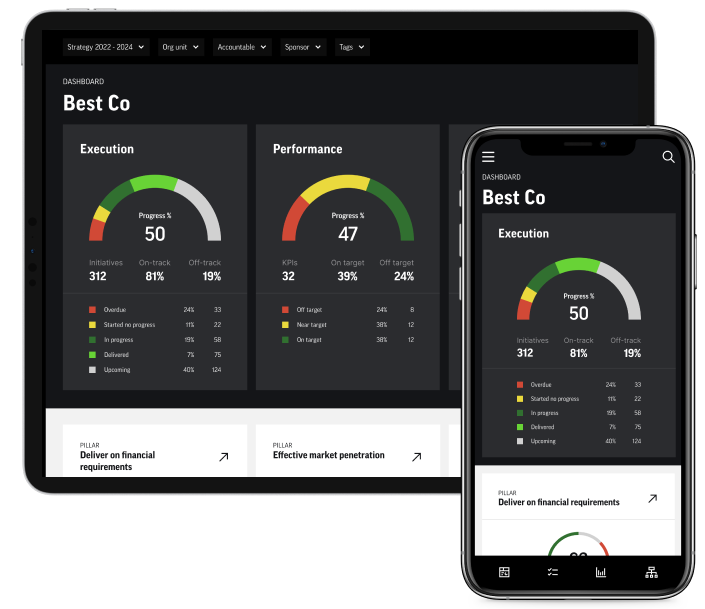 ✖
Strategy Execution Management
Strategy Execution Management software is an infrastructure for your strategy that replaces messy spreadsheets, manual follow-ups and makes it a lot easier to stay on top of your strategy implementation. It creates transparency and it speeds up the progress of your strategy execution.
DecideAct Strategic Execution software also supports early adjustments, enables agile decision making and helps you stay ahead of competition.
Decide

Quickly

The software turns complicated data into clear visuals, giving you everything you need to respond quickly to change. You'll even have 24/7 access from anywhere using your mobile device. DecideAct is an infrastructure for your strategy with top-down governance and bottom-up engagement.
DecideAct
supports your chosen methodology and any strategic framework without any hassle
dashboards enable managers to quickly view the consolidated status of all strategic execution priorities and goals across the organization and portfolio companies
is easy to integrate, intuitive to use, and promotes agile strategic decision-making and follow-up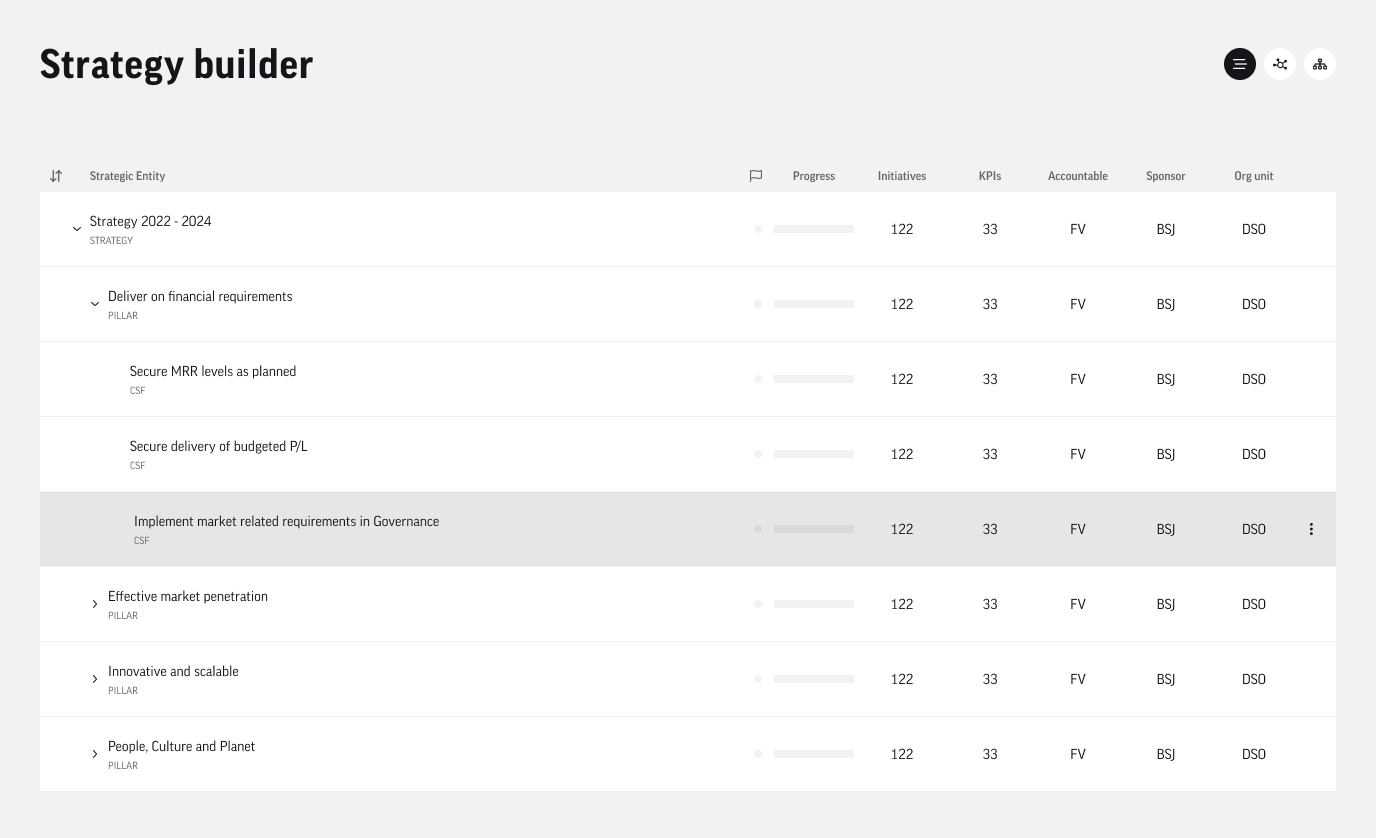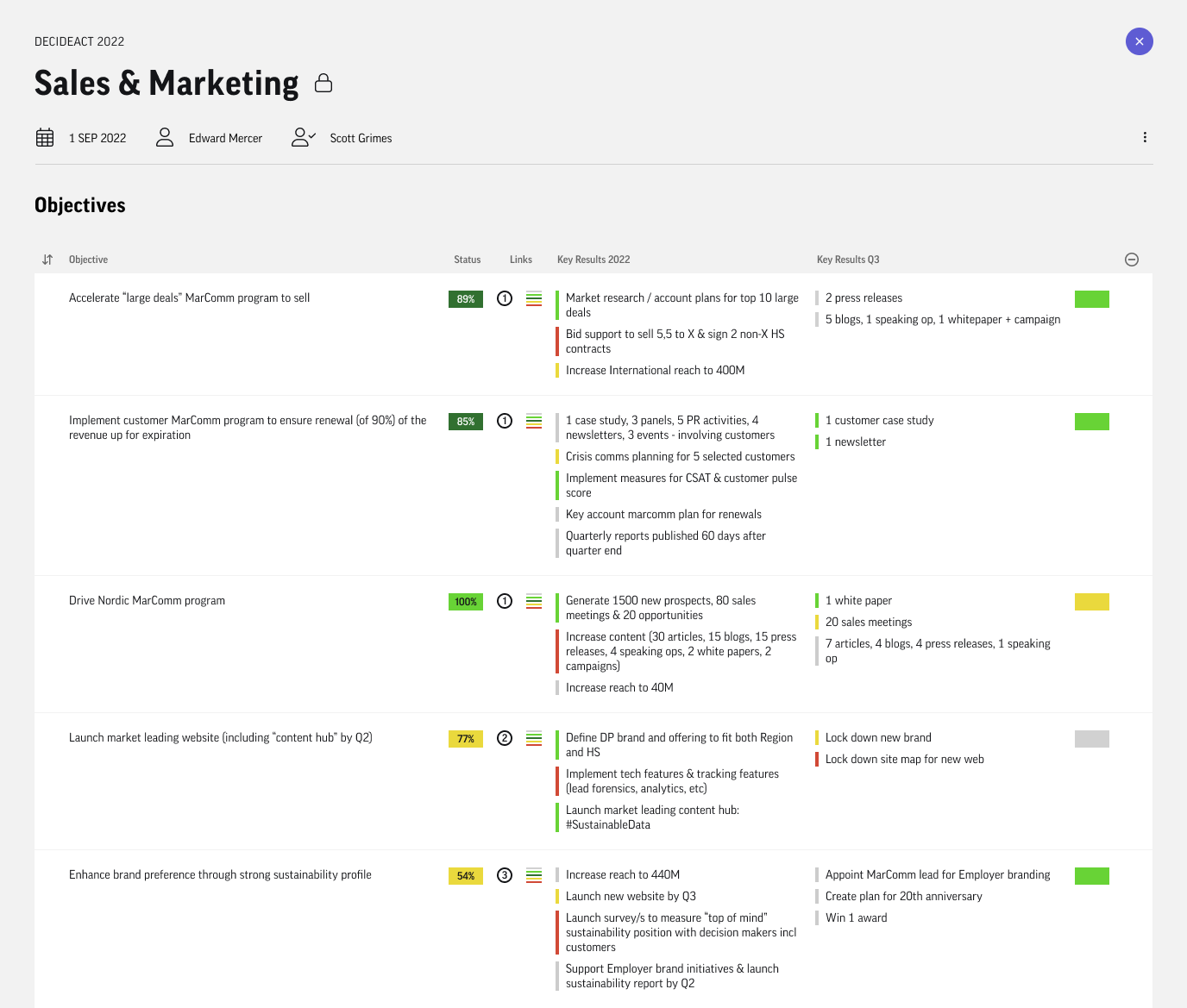 Act

Efficiently

With Strategy Execution Management, you can keep all the moving parts of your strategy running smoothly by seamlessly integrating automatic updates and flags to catch potential issues early. With the mobile app, every individual in the organization can update and track from anywhere and at any time.
DecideAct
integrates seamlessly with your existing technology
involves and aligns your team because the strategy, and their part in achieving it, is clear
makes team collaboration super-easy with access to all action items and due dates has a "confidence level" function indicating the reliability of the data and performance reported by the organization.
Track

Consistently

The software ensures strategic governance and does most of the tracking for you, even "nudging" employees when it's called for. Accountability is indisputable, no more status meetings with spotty information. No more misunderstandings about what the goal is exactly, or how to achieve it.
DecideAct
automatically follows up on strategic initiatives and tasks
monitors your organization's Key Performance Indicators (KPIs)
identifies potential conflicts in your strategy and helps you eliminate them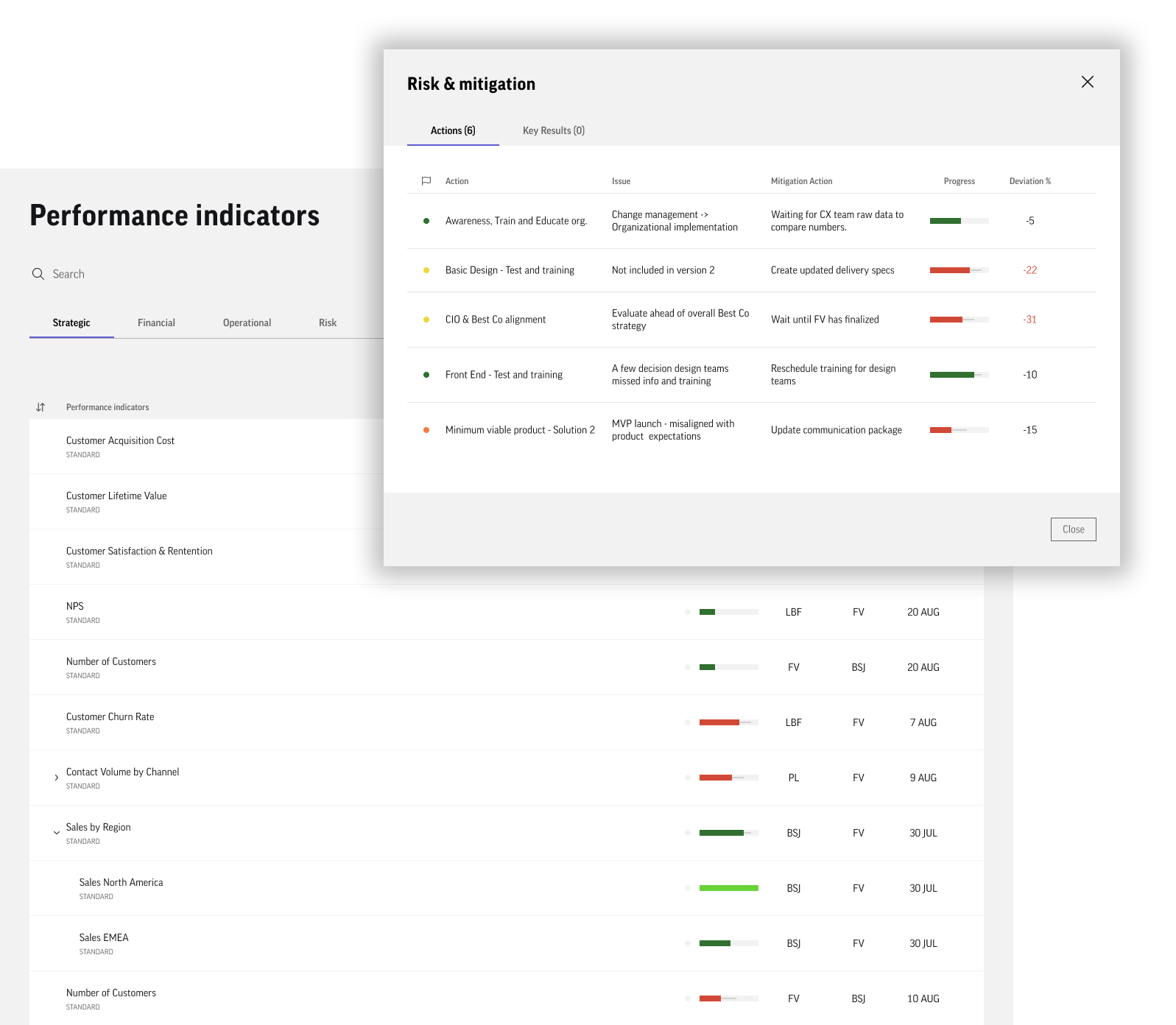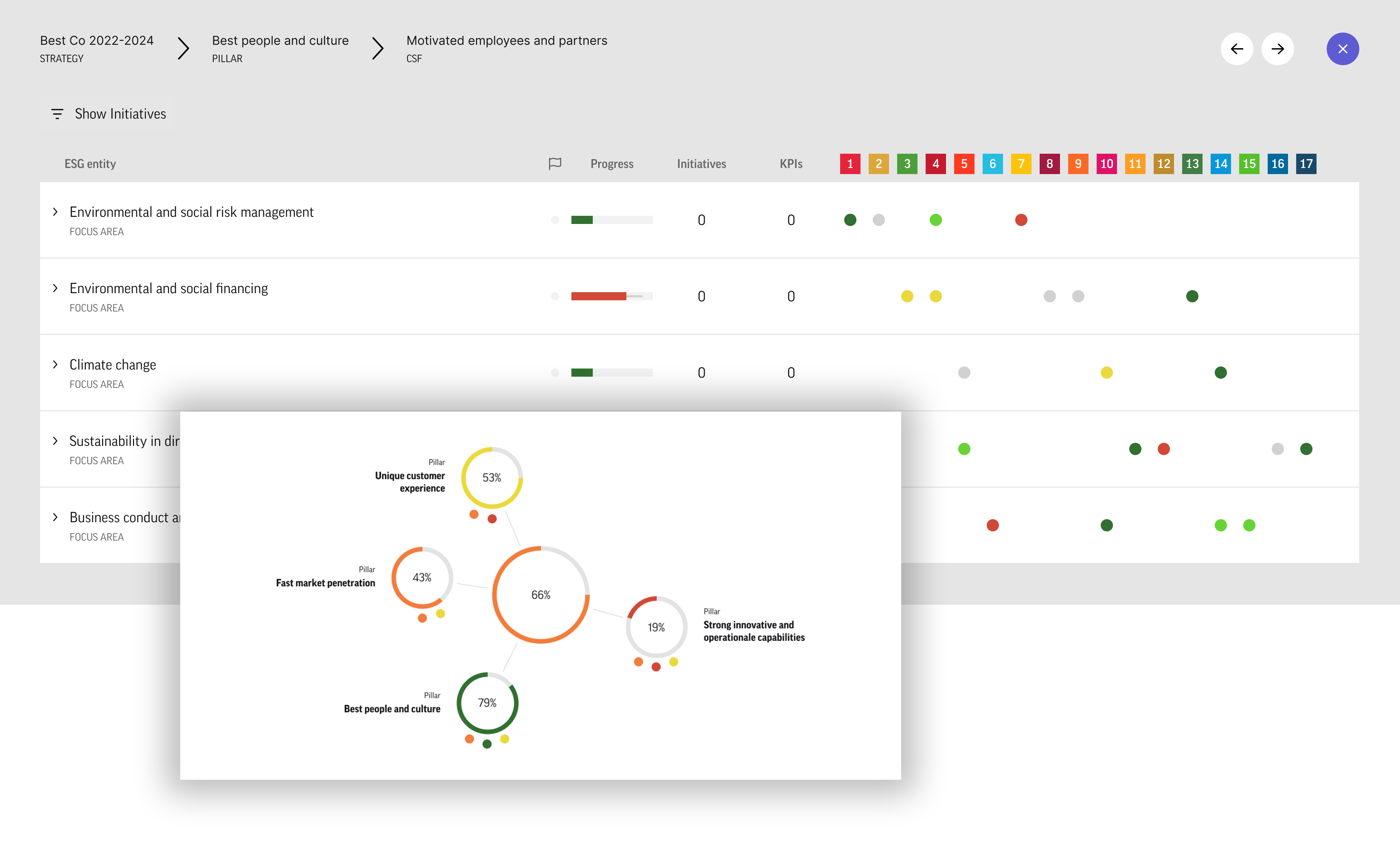 Adapt

Seamlessly

A robust Strategy Execution Management platform lets you modify or course-correct your strategy immediately to respond to changes in the market. DecideAct's Environmental, Social, and Corporate Governance (ESG) module also helps you track and document your organization's efforts to meet the United Nations' Sustainable Development goals.
DecideAct
streamlines implementation with scalable, repeatable processes
ensures agility and the possibility of early adaptations
keeps the strategy on track in a dynamic and fast-changing reality
supports standard and custom ESG frameworks
Configuring the ideal solution for your organization
After onboarding, would you prefer to manage your strategy in-house? We'll coach your people. Rather outsource it all? Our experienced project managers will take it from there.
How DecideAct's cloud solution works?
DecideAct's groundbreaking digital strategic management tool handles all the complexity of strategy implementation- It automatically follows up on strategic initiatives and tasks that are critical to the company's success-and ensures they're carried out. With DecideAct's intuitive dashboard, you always have a comprehensive overview of key figures, progression, and status. And with the DecideAct mobile app, team members can keep the strategy in their pocket - never at a loss for where they stand in the implementation process.
Works on multiple platforms and on-the-go
DecideAct works on desktop computers, tablets, and mobile devices wherever there is an internet connection. Behind the intuitive interface is state-of-the-art tech that handles the most complex databases-and seamslessly integrates them with your digital infrastructure. The system can also be scaled up to an unlimited number os users.
Agnostic to strategic frameworks
DecideAct, unlike most competing solutions, is born framework agnostic, making the platform much more flexible in tailoring solutions to customer needs. DecideAct is also not a plug & play off-the-shelf product; assessment of the existing technological infrastructure will always be part of the onboarding process.
Easy to get started
You'll get all the help you need from our world-class Technical Support and Customer Success Teams.