Take your business strategy execution to the next level with advanced OKR for Strategy Execution
Advanced ways to work with Objectives, Key Results, and Critical factors (OKR) deliver short-term results for a two- to four-week strategy sprint. Promise-Based Execution or Advanced OKR also build accountability and contribute to long-term Planned Results.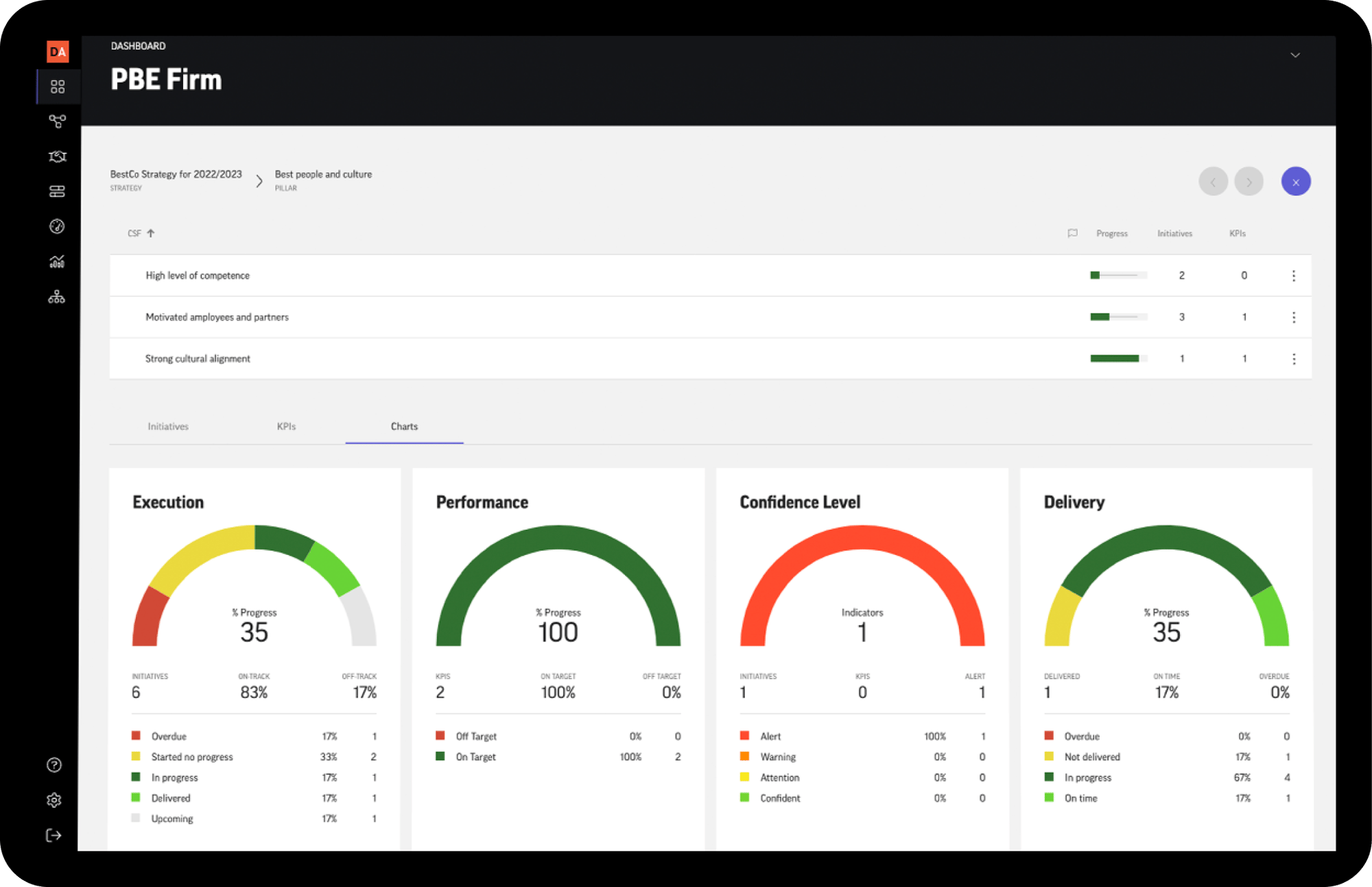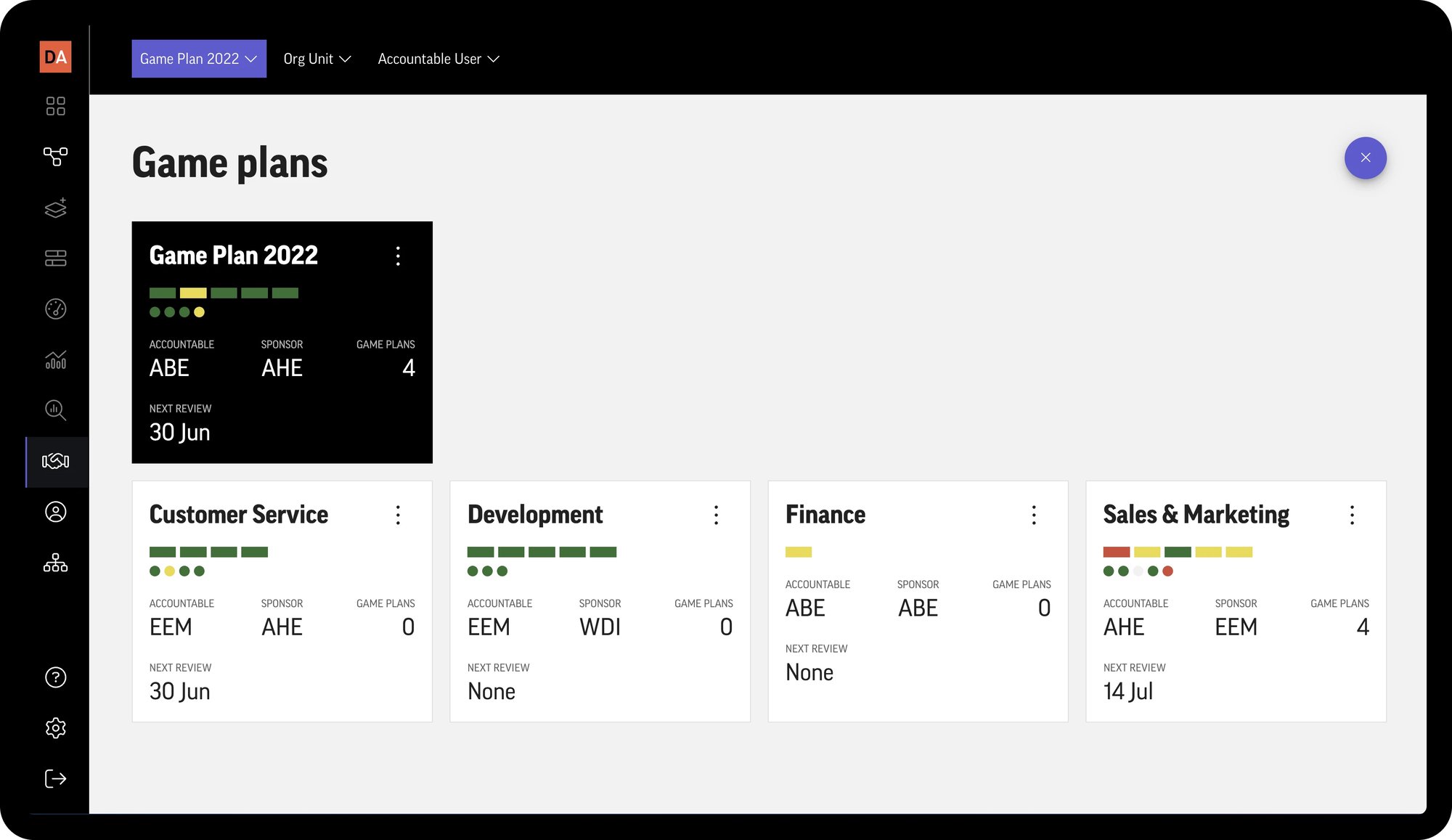 Our plug & play digital solution brings your Game Plan to life.
It's never been easier to digitalize Strategy Execution Management. Our world-class support team will keep you on track through onboarding and beyond. Our SEM solution works with strategic frameworks your organization already uses—and also complements the Promise-Based Execution methodology created by Blue Note Consultants.
Why use Promise-Based Execution to achieve your personalized Game Plan?
Clear direction, expectations, and consistent follow-up are some reasons to use this Common Accountability framework for your personalized Game Plan. Clear accountability is a prerequisite for success in bottom-up engagement.
Our Game Plan setup includes
Clear directions for all team members
Each employee taking responsibility for their assigned tasks and objectives
Keeping your team focused on results
Organizational cross-dependency alignment
Flexibility to realign when necessary to keep the strategy on track
The Dependency Map drives execution and follow-up
Our PBE solution offers an overview of internal and external dependencies, which are highlighted on the Dependency Map.
The Promise-Based framework establishes bottom-up engagement with clear directions, expectations, and effective follow-up.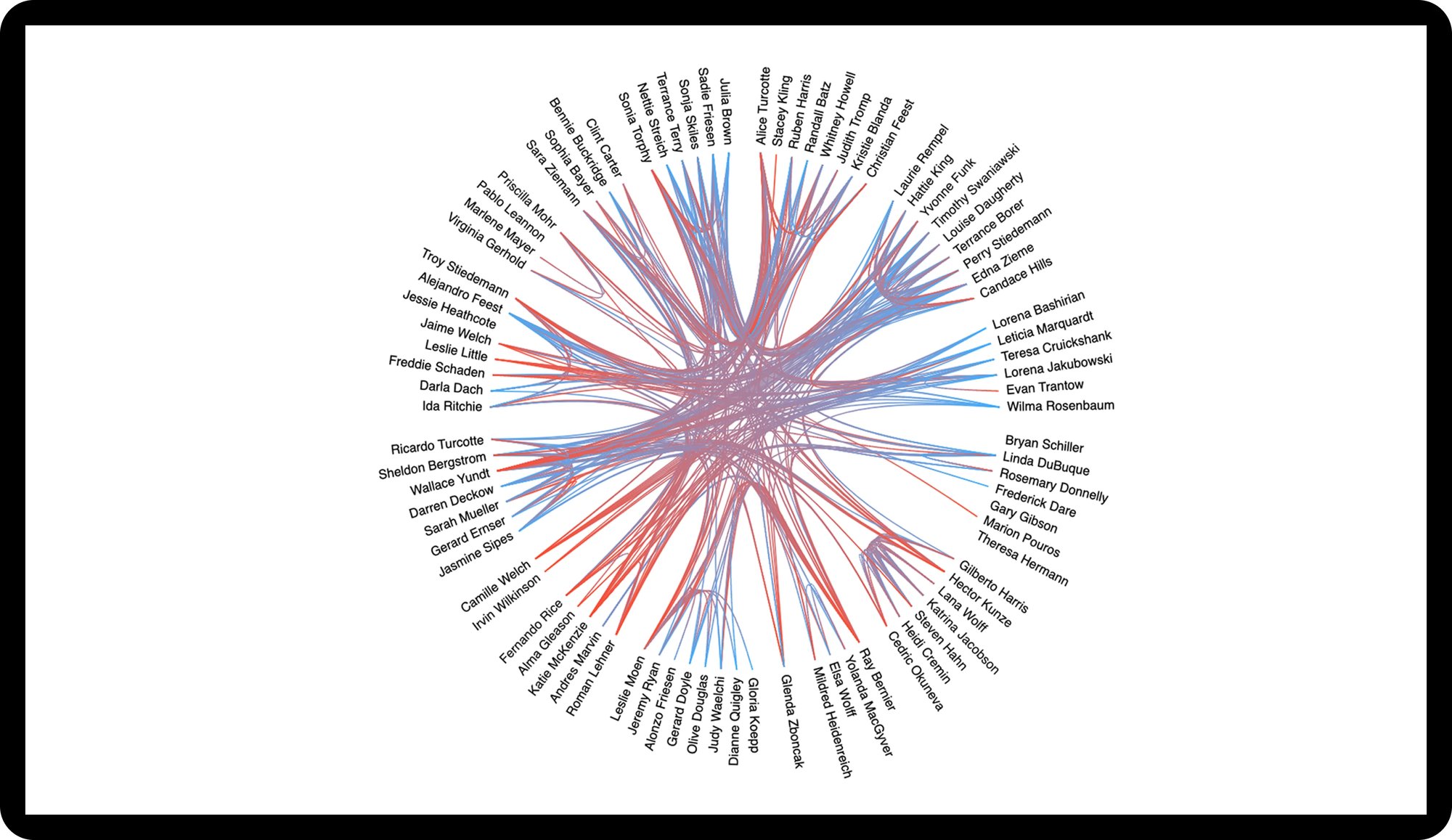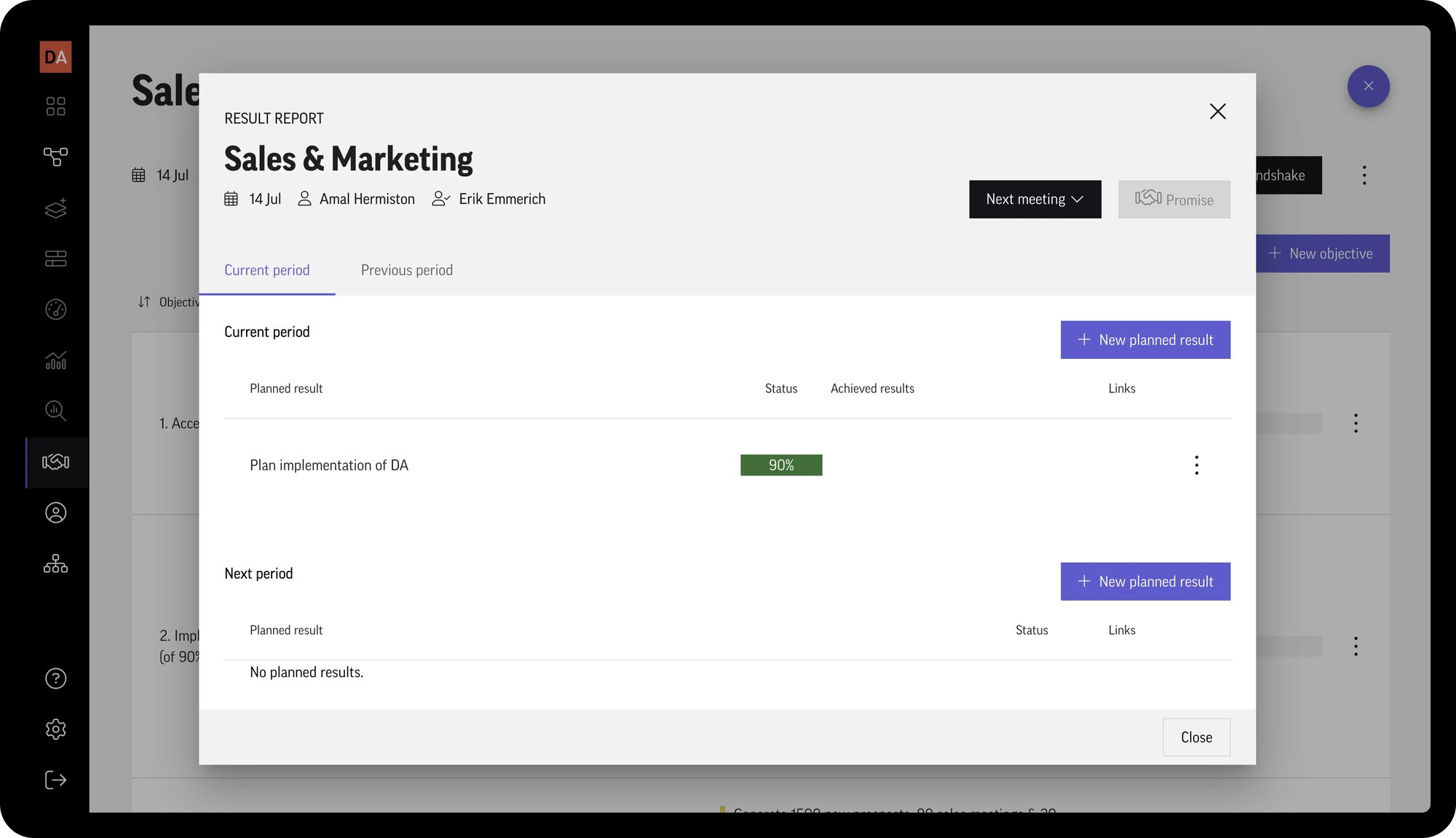 Give your organization the flexibility to adjust your strategy to a changing market by defining
Clear

Objectives

for each Game Plan (linked to objectives in other Game Plans when appropriate);
Quarterly and yearly

Key Results

, which establish a clear link between planned milestones and objectives;

Personalized Critical Factors for Success

prevent wishful thinking by making all expectations clear;
Two- to four-week

Planned Result

sprints for an immediate sense of accomplishment.
A personalized Game Plan enhances leader–employee communications
1
Sets the Direction
Your Game Plan sets the overall direction for a given timeframe
2
Aligns Expectations
Your Game Plan confirms your manager's expectations of you in strategy execution
3
Facilitates Collaboration
Your Game Plan align all team members in cross-dependencies
4
Ensures Follow-Up
Your Game Plan integrates follow-up in strategy execution
Our solution supports all Game Plan levels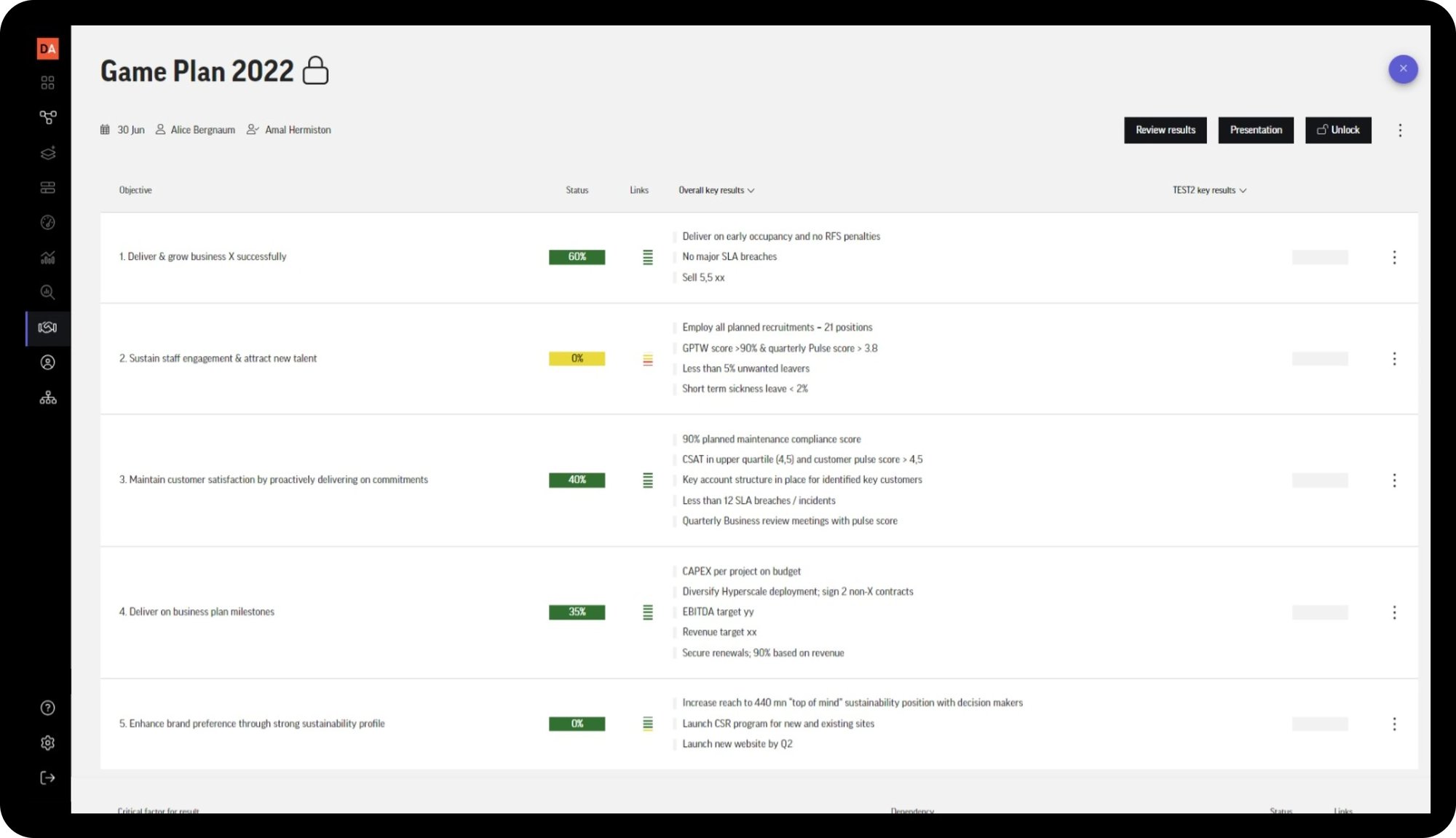 Level 1
Master Game Plan - Company
Level 2
Game Plan - Functions
Level 3
Game Plans - Departments
Level 4
Master Game Plan - Teams/Employees