Public organizations are more complex than private companies
Politicians define goals through politics and coalition agreements.
The government makes demands through legislation.
Climate agreements oblige public organizations to develop strategies and goals that support the Paris Agreement and the UN's Sustainable Development Goals.
Annual budget processes involve service-level adjustments.
Senior management is responsible for many subject-specific or cross-disciplinary projects, all of which must meet specific performance targets and deadlines.
Standard package that can be implemented in 2 weeks
Climate strategies
With continuous follow-up on initiatives, you get automatic calculations and a real-time overview of the reduction in CO2. Standard reports for steering committees, committees and boards. The results can be displayed on the website.
Budget agreements
Delegate follow-up on initiatives to administrations, departments or internal financial consultants. Real-time overview of the status of implementation/ reductions/investments throughout the organization.
Business strategies
Delegate follow-up on initiatives to both internal and external stakeholders and get a real-time overview of the status of political goals. Standard reports for steering committees, committees and boards.
Subscription with fixed low prices. The price includes setup, training and follow-up. Discount when buying 2 or more solutions. Complement and can communicate with existing BI systems.
Oversight Project Overviews, Initiatives and Key Performance Indicators (KPIs)
The DecideAct platform gives you a complete overview of all initiatives and KPIs, so you can make informed decisions quickly. Others in the organization can also view data based on the security level you assign.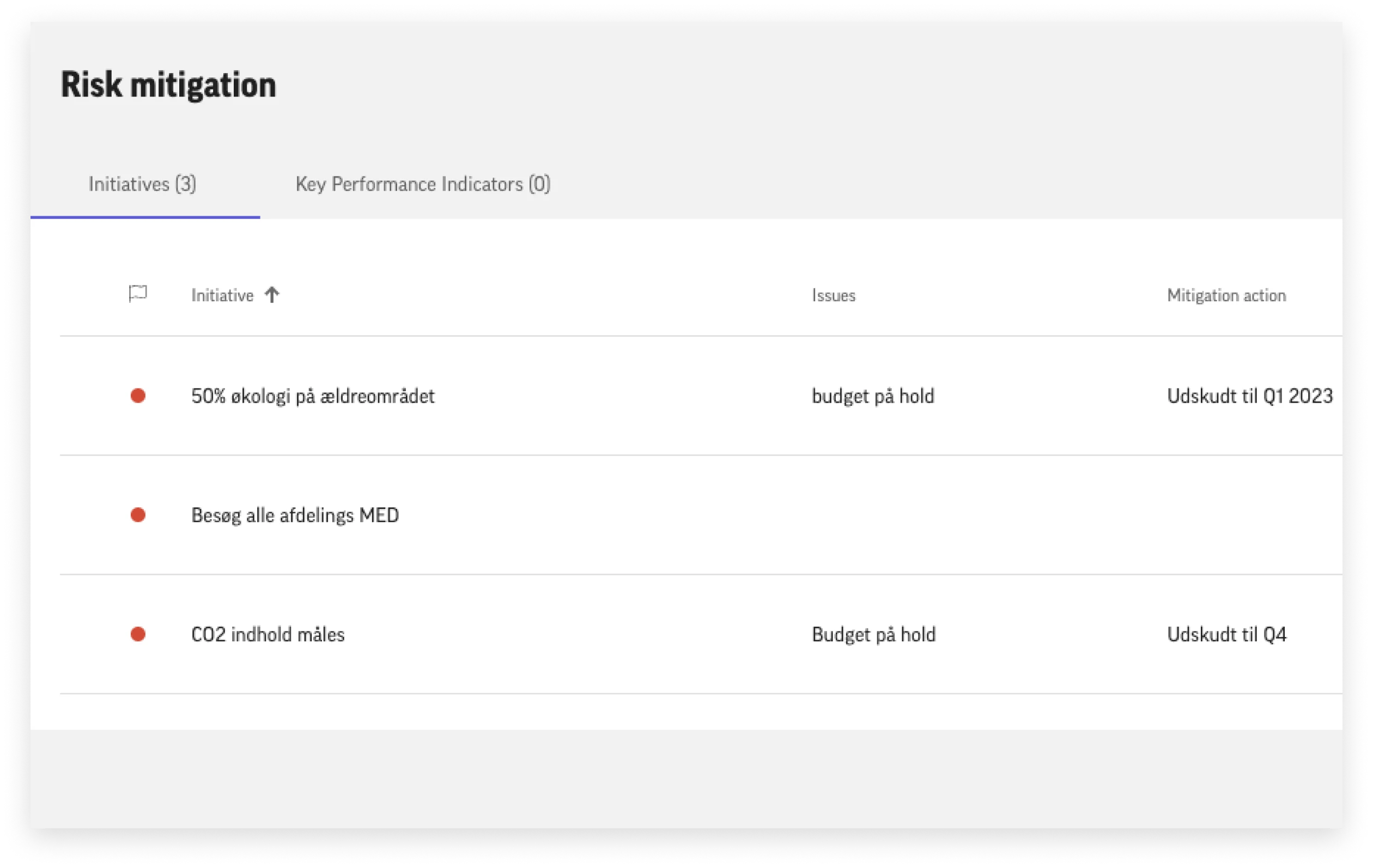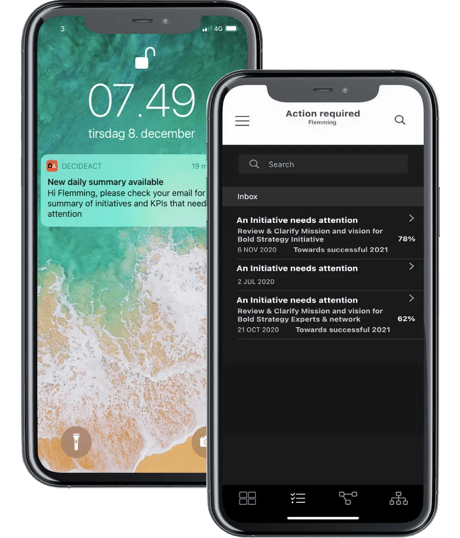 Keep the strategy always at hand and regular follow-up from key personnel
DecideAct ensures follow-up from key players in your organization. Electronic nudges keep the strategy on track; users can even update their status from a convenient mobile app.
With DecideAct's mobile app, you can
Keep the entire strategy in your pocket
Update status on the go
Check the status of individual initiatives
Dashboards Promote Engagement
The user dashboard can be customized at every level. If a manager requests more detail on tasks assigned to their department, it's just a few clicks away. It's also simple to work with multiple strategies and sub-plans across organizational units.
With DecideAct's dashboard...
Users stay up-to-date on the status of deliverables
Key Performance Indicators show exactly where they stand
"Big picture" strategy engagement boosts morale and productivity